American CareSource to Discuss Fourth Quarter and Year End 2008 Financial Results
Submitted by admin on 3/24/2009 @ 9:12 AM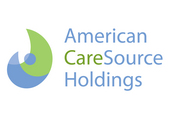 DALLAS, TX -- (Marketwire) -- 03/24/09 -- American CareSource Holdings, Inc. (NASDAQ: ANCI) announced today that it will hold a conference call on March 31, 2009 to discuss financial results for the fourth quarter and year ended December 31, 2008. David S. Boone, Chief Executive Officer, and Steven J. Armond, Chief Financial Officer, of American CareSource will host the call.

Access information

Date:               Tuesday, March 31, 2009
Time:               10:00 a.m. (CT)/11:00 a.m. (ET)
Dial-in numbers:    877-795-3610 (U.S. & Canada) or 719-325-4819
Live webcast:       www.anci-care.com, under "Events"

The teleconference replay will be available two hours after completion through Tuesday, April 7, 2009 at 888-203-1112 (U.S. & Canada) or 719-457-0820. The replay passcode is 1234640. The archived webcast will be available for one year on the Company's investor website, www.anci-care.com, "Events."
About Ancillary Healthcare Services
American CareSource provides ancillary healthcare services through its network that offers cost effective alternatives to physician and hospital-based services. This market is estimated at $574 billion, and has grown to 30% of total national health expenditures. These providers offer services in over 30 categories, including laboratories, dialysis centers, free-standing diagnostic imaging centers, non-hospital surgery centers, as well as durable medical equipment such as orthotics and prosthetics, and others.
About American CareSource Holdings, Inc.
American CareSource Holdings, the first national, publicly traded ancillary care network services company, offers a comprehensive national network of approximately 2,500 ancillary service providers at over 25,000 sites through its subsidiary, Ancillary Care Services. The Company's ancillary network and management provides a complete outsourced solution for a wide variety of healthcare payors and plan sponsors including self-insured employers, indemnity insurers, PPOs, HMOs, third party administrators and both federal and local governments. For additional information, please visit www.anci-care.com.
Contact:
Contact:
Steven J. Armond
Chief Financial Officer
American CareSource Holdings, Inc.
Tel: 972-308-6847