Evolving Systems Sets Date for 2009 3rd Quarter Release and Conference Call
Submitted by admin on 10/26/2009 @ 4:30 AM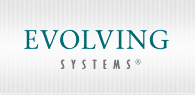 ENGLEWOOD, CO -- (Marketwire) -- 10/26/09 -- Evolving Systems, Inc. (NASDAQ: EVOL), a leading provider of software solutions and services to the wireless, wireline and cable markets, today announced it will release its 2009 third quarter financial results after the market closes on November 3, 2009, and conduct a conference call the same day at 2:45 p.m. Mountain Time (4:45 p.m. Eastern Time).
The call-in numbers for the conference call are 1-888-267-6301 for domestic toll free and 719-457-2656 for international callers. The conference code is 4954362.
A telephone replay will be available through November 10, 2009, and can be accessed by calling 1-888-203-1112 or 1-719-457-0820, passcode 4954362.
To access a live Webcast of the call, please visit Evolving Systems' website at www.evolving.com. A replay of the Webcast will be accessible at that website through November 10, 2009.
About Evolving Systems
Evolving Systems, Inc. (NASDAQ: EVOL) is a provider of software and services to more than 70 network operators in over 40 countries worldwide. Its portfolio includes market-leading products for Service Activation, Service Verification, Dynamic SIM Allocation, Number Portability, Number Inventory and Mediation solutions. Founded in 1985, the Company has headquarters in Englewood, Colorado, with offices in the United Kingdom, Germany, India and Malaysia. Further information is available on the web at www.evolving.com
Contact:
CONTACTS:

Investor Relations
Jay Pfeiffer
Pfeiffer High Investor Relations, Inc.
303.393.7044
Email Contact