PediaVision(TM) Awarded Contract From Tennessee's Department of Education to Tackle Vision Issues in Young Children With Disabilities or Developmental Delays
Submitted by admin on 10/27/2009 @ 7:08 AM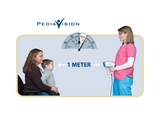 LAKE MARY, FL -- (Marketwire) -- 10/27/09 -- PediaVision, a company dedicated to solving the critical problem of undiagnosed vision problems affecting thousands of children, today announced it has been awarded a contract from Tennessee's Department of Education to tackle vision issues in young children with disabilities or developmental delays.
Through the Tennessee Early Intervention System (TEIS), the DOE is purchasing the PediaVision Assessment Solution to be used throughout the state's 95 counties. Tennessee's Early Intervention System is a voluntary educational program for families with children ages birth through two years of age with disabilities or developmental delays.
"The primary goal of TEIS is to support families in promoting their child's optimal development and to facilitate the child's participation in family and community activities," said Jamie Kilpatrick of TEIS.
"Vision issues are so prevalent in young children, yet can go largely undiagnosed in the birth to three population. We are pleased to be using the PediaVision Assessment Solution throughout our state to assist in the early detection of vision concerns in our children," Kilpatrick added.
According to Prevent Blindness America (http://preventblindness.org), one in four school-age children have a vision problem significant enough to affect learning, yet approximately 95 percent of vision issues in children -- if caught early -- can be corrected.
PediaVision's VP Jeff Mortensen said, "We are pleased to have been selected to work with Tennessee's Department of Education to get out in front of potential vision issues by screening children as young as six months. We hope other states will follow their lead," he added.
The only binocular vision screening device that produces highly accurate, immediate results, the PediaVision Assessment Solution (PAS) is effective for screening children of any age, especially pre-verbal children. The software produces written results and a recommendation as to whether or not a subject should be referred to an eye care specialist. Conducted from three feet away, the screening is as simple and non-invasive as taking a picture of the child.
About PediaVision
PediaVision is dedicated to solving the critical problem of undiagnosed vision problems affecting thousands of children and to helping Pediatricians provide thorough vision screening. The company was initially founded by a team of optometrists and ophthalmologists. These medical professionals were confronted daily with the impact of permanent vision loss in children. PediaVision has a proven technology and a management team with medical expertise and a strong track record of transforming industries. For more information about PediaVision, and to help the fight against undiagnosed vision problems in children, please visit www.pediavision.com.
Add to Digg Bookmark with del.icio.us Add to Newsvine
Contact:
For more information about this release, contact:

Tammy Snook
HighTech PR, Inc.
407-667-9355
Email Contact